Registration of biosimilars in Europe and the US
Europe is way ahead of the US in terms of biosimilars regulation. A legal framework for approving biosimilars in the EU was established in 2003 and guidelines for an abbreviated registration process were issued in 2006.
EMA approved its first biosimilar for somatropin (Omnitrope) back in 2006. To date, the agency has approved 14 biosimilars for use in the EU, within the product classes of human growth hormone, granulocyte colony-stimulating factor (G-CSF) and erythropoietin.
In Europe, guidelines are already in place covering general topics such as quality, efficacy and safety, as well as product specific issues concerning, e.g. soluble insulin, human growth hormone (somatropin), G-CSF erythropoietins, interferon-alpha, low molecular weight heparins and monoclonal antibodies.
In the US, however, the situation is somewhat different. Although a legal pathway was put into place with the signing into law of the Biologics Price Competition and Innovation Act of 2009 (BPCI Act) on 23 March 2010 by President Barack Obama, FDA is still in the process of developing guidelines regarding these types of products.
A comparison of the biosimilars pathways in Europe and the US is given in Table 1.
Table 1: Registration of biosimilars in Europe and the US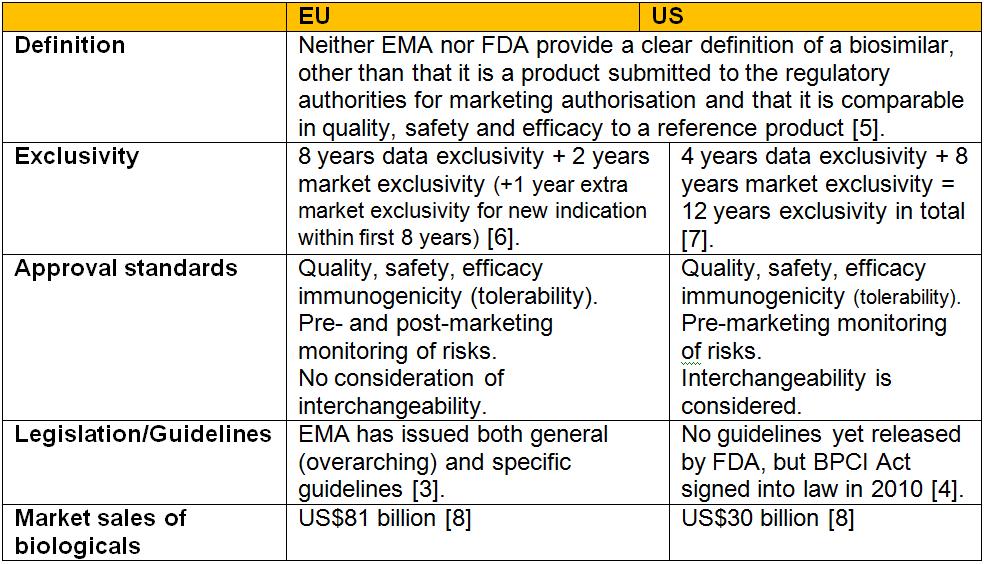 Source: Simoens S et al.
Related articles
Factors affecting market access of biosimilars
Source: www.gabionline.net
Source URL: https://gabi-journal.net/news/registration-of-biosimilars-in-europe-and-the-us
---