One of the main financial concerns expressed by adults in the US is the cost of medications and medical bills, however, despite this fact, very few patients talk about the price of prescription medicines with their physicians, according to Consumer Reports' monthly nationally representative survey.
Research was carried out by the Consumer Reports National Research Center by telephone survey, which took place on 2–6 June 2011 among 2,038 adults (1,034 men and 1,004 women) aged 18 years and older to assess their behaviours and attitudes regarding health care.
According to the research almost half (48%) of patients who take at least one prescription medication have taken–in some cases dangerous–measures to save money, see Figure 1. These measures included putting off physician visits (21%), delaying medical procedures (17%), or declining medical tests (14%). Respondents also reported that, when faced with dwindling funds, they have skipped filling a prescription (16%), taken expired medications (13%), skipped a scheduled dose without checking with their doctor or pharmacist (12%), split pills in half without consent of their physician or pharmacist (8%) or shared a prescription with someone else (4%).
Figure 1: Potentially dangerous measures that patients have taken to save money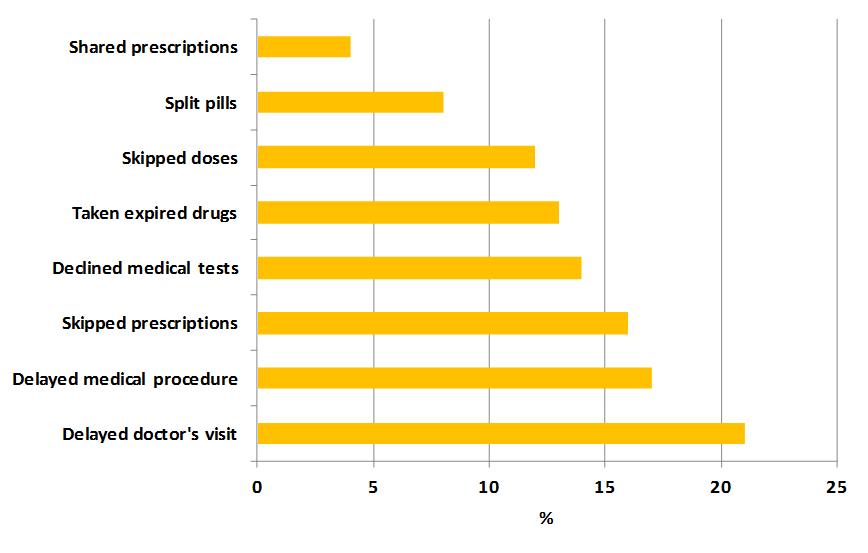 Despite the concern that patients have about the cost of their medication, doctors rarely talk with patients about the cost of drugs. Just 5% of survey respondents said they found out about the cost of a prescribed drug at the doctor's office, while 64% discovered it at the pharmacy when picking up the prescription. In addition, although generics can cost a fraction of the cost of brand-name drugs, 41% of people said their doctor only sometimes, or never, recommended a generic medication, and yet 93% said they would be willing to switch.
Compounding this issue is that nearly one in five patients (18%) who currently take a medicine also said that in the last 12 months, they had asked their doctor to prescribe a drug they had seen or had heard advertised. In 70% of such cases, patients said their doctor complied. While effectiveness and safety are the most important factors to consider when prescribing a drug, cost is far too often a forgotten component of good patient health care. This is especially true when taking into account the fact that there are cheaper generics available.
In view of these results it is perhaps surprising to find out that virtually all (98%) patients were aware of generic drugs, and among those who regularly take a medicine, generics account for three-quarters (75%) of their prescriptions.
Source: www.gabionline.net