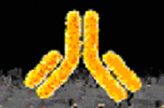 An adalimumab biosimilar (CHS-1420) from fledgling biotech company Coherus Biosciences (Coherus) has shown comparable pharmacokinetics in a pivotal clinical study.
Coherus announced on 14 August 2014 that its adalimumab biosimilar, CHS-1420, had met the primary endpoint of clinical pharmacokinetic similarity to the originator biological Humira (adalimumab) in a clinical study in healthy subjects.
The parallel-group, single-dose study met the criteria for clinical pharmacokinetic similarity on all three required, prospectively defined, pharmacokinetic endpoints: maximum serum concentration (Cmax), area under the time-concentration curve from first to last time point measured (AUC0-t) and area under the time-concentration curve from first time point extrapolated to infinity (AUC0-¥),  with all three geometric mean ratios fully within the 90% confidence interval from 80–125%.
The 80–125% rule states that two versions of a drug are generally said to be bioequivalent if the 90% confidence intervals for the ratios of the geometric means (brand-name versus generic) of the area under the curve (AUC) and maximum concentration (Cmax) fall within 80% and 125%.
Both drugs were well tolerated and there were no differences in the safety findings observed between the two drugs in the study.
AbbVie's blockbuster arthritis and psoriasis treatment Humira (adalimumab), the world's top-selling prescription drug, earned the company almost US$10.7 billion in 2013, accounting for almost 60% of AbbVie's total sales. Patents on Humira expire in the US in December 2016 and in Europe April 2018 [1].
Coherus is not the only company with adalimumab biosimilar in its sights. At least eight companies are reported to be working on biosimilars of adalimumab [2]. Both Amgen and Sandoz have also started phase III trials with their biosimilar adalimumab candidates [3, 4].
Related Article
Biosimilars ruling has implications for future patent challenges
References
1.    GaBI Online – Generics and Biosimilars Initiative. US$67 billion worth of biosimilar patents expiring before 2020 [www.gabionline.net]. Mol, Belgium: Pro Pharma Communications International; [cited 2014 Sep 5]. Available from: www.gabionline.net/Biosimilars/General/US-67-billion-worth-of-biosimilar-patents-expiring-before-2020
2.    GaBI Online – Generics and Biosimilars Initiative. Biosimilars of adalimumab [www.gabionline.net]. Mol, Belgium: Pro Pharma Communications International; [cited 2014 Sep 5]. Available from:www.gabionline.net/Biosimilars/General/Biosimilars-of-adalimumab
3.    GaBI Online – Generics and Biosimilars Initiative. Amgen starts another phase III trial for biosimilar adalimumab [www.gabionline.net]. Mol, Belgium: Pro Pharma Communications International; [cited 2014 Sep 5]. Available from: www.gabionline.net/Biosimilars/News/Amgen-starts-another-phase-III-trial-for-biosimilar-adalimumab
4.    GaBI Online – Generics and Biosimilars Initiative. Sandoz starts phase III biosimilar adalimumab trial [www.gabionline.net]. Mol, Belgium: Pro Pharma Communications International; [cited 2014 Sep 5]. Available from: www.gabionline.net/Biosimilars/News/Sandoz-starts-phase-III-biosimilar-adalimumab-trial
Source: www.gabionline.net