Top developments in biosimilars during 2019
Submitted: 3 February 2020; Revised: 12 February 2020; Accepted: 18 February 2020; Published online first: 25 February 2020
2019 has been a busy year for biosimilars; there have been a record number of approvals and the start of many clinical trials. It has been a particularly busy year for the oncology and anti-inflammatory therapeutic areas, with numerous approvals and launches for key molecules including adalimumab, infliximab, bevacizumab and trastuzumab. There have also been a number of promising new investments and collaborations, some of which will bear fruit in 2020. Yet challenges remain for the global biosimilars market. Focus areas include improving education, streamlining the regulatory process and ensuring the long-term sustainability of the market, among others.
Biosimilar approvals in 2019
By end of 2019, there were 26 biosimilars and four follow-on biologicals (with one tentative approval) approved in the US and 58 biosimilars approved in Europe [1, 2], not to mention the growing numbers of approvals elsewhere around the globe, see Table 1.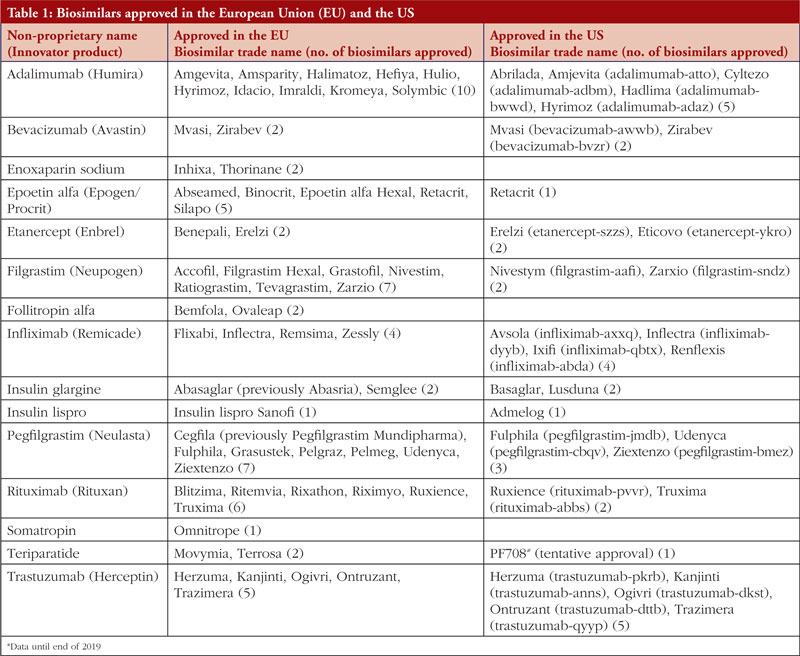 Adalimumab
Adalimumab, sold under the brand name Humira, is a tumour-necrosis factor-alpha (TNF-α) inhibitor used to treat inflammatory conditions including rheumatoid arthritis, psoriasis and inflammatory bowel disease (IBD). In Europe, Fresenius Kabi, the generics unit of German healthcare giant Fresenius, received approval for their adalimumab biosimilar Idacio in April 2019. The product was launched in Germany soon after, at the beginning of May 2019. Mylan's biosimilar Hulio, which gained European Medicines Agency's (EMA) recommendation for approval in September 2018 was launched in major European markets in October 2018 and in Spain in July 2019. This was Mylan's first biosimilar to launch in Spain. In the US, the US Food and Drug Administration (FDA) has approved two adalimumab biosimilars during 2019; Hadlima from Samsung Bioepis, followed by Pfizer's Abrilada. Finally, in China, the National Medical Products Administration (NMPA) approved Qletli in November 2019. Qletli is produced by Bio-Thera Solutions and is the company's first biological to receive approval.
Bevacizumab
EMA was the first regulatory agency to approve a bevacizumab biosimilar in 2019. The originator drug, marketed as Avastin, targets vascular endothelial growth factor A (VEGF-A) and is used to treat a number of cancer types. Patents on Avastin expired in the US in July 2019 and will expire in Europe in January 2022. Pfizer's biosimilar version, sold as Zirabev, was approved for sale in the European Union (EU) in February 2019. EMA accepted an application from Samsung Bioepis in July 2019, but the drug has not yet been approved. FDA approved Zirabev for sale in the US soon after, in June 2019. Zirabev was approved in Japan in June 2019 and a further bevacizumab biosimilar was approved in September 2019. The second biosimilar is developed by Amgen but will be distributed and commercialized in Japan by Tokyo-based Daiichi-Sankyo. Zirabev was also approved in Australia in November 2019. A bevacizumab similar biologic, named Versavo (Dr Reddy's Laboratories), was launched in India in August 2019.
Darbepoetin alfa/Epoetin alfa
Darbepoetin alfa and epoetin alfa are both recombinant forms of human erythropoietin, also known as EPO, which stimulates red blood cell production. Both treatments are used in the treatment of anaemia, typically in patients with chronic kidney failure. South Korean company PanGen gained approval from the Malaysian National Pharmaceutical Regulatory Agency for its epoetin alfa biosimilar Erisa in February 2019. In Japan, three darbepoetin alfa biosimilars were approved in 2019. JCR Pharmaceuticals developed a long-acting injectable version of the drug in collaboration with Kissei Pharmaceuticals. The other darbepoetin alfa biosimilars that were approved were produced by South Korean companies Chong Kun Dang (which will be distributed via Mylan's Japanese arm) and Dong-A ST (with Japanese partner Sanwa Kagaku Kenkyusho).
Dornase alfa
Russian biotech company Generium and Swiss cell-line producer Selexis received approval for their dornase alfa non-originator biological Tigerase in September 2019. The drug is a non-originator biological of Roche's Pulmozyme and is used to treat cystic fibrosis by cleaving the DNA in the mucus of patients' lungs.
Eculizumab
In April 2019, the Russian Ministry of Health approved an eculizumab non-originator biological called Elizaria. The product, which is used to treat rare blood and immune disorders, is produced by Generium. They claim to be the first company in the world to develop and market a non-originator biological of eculizumab.
Etanercept
There were four approvals for etanercept biosimilars in 2019. First, Japan's Pharmaceuticals and Medical Devices Agency (PMDA) approved Lupin's biosimilar of the TNF inhibitor in March 2019. The drug (YLB113) is distributed by YL Biologics, a joint venture between Lupin and Japanese generics maker Yoshindo. Lupin is awaiting approval for its etanercept biosimilar in Europe. In the US, FDA approved Samsung Bioepis etanercept biosimilar Eticovo in April 2019. Finally, China approved an etanercept copy biological in a pre-filled syringe dosage form. The drug, Yisaipu, was developed by Sunshine Guojian Pharmaceutical and had previously been approved as a powder.
Filgrastim/Pegfilgrastim
In 2019, the European Commission (EC) approved three pegfilgrastim biosimilars. In January they approved Fulphila from Biocon and Mylan; in April they approved Grasustek made by Indian manufacturer USV; and in October they approved Pegfilgrastim Mundipharma (now called Cegfila), produced by Mundipharma Biologics. They are all biosimilars of Amgen's Neulasta (pegfilgrastim), a PEGylated form of the recombinant human granulocyte colony-stimulating factor (G-CSF) analogue filgrastim. The treatment is used to stimulate bone marrow to produce more neutrophils, which help to fight infection in immunocompromized patients, such as those undergoing chemotherapy. In the US, FDA approved Sandoz's pegfilgrastim biosimilar Ziextenzo in November 2019, following a previous rejection of the application in 2016. FDA also rejected an application for a filgrastim biosimilar from Taiwan-based biosimilars maker Tanvex in 2019. The company plans to work closely with FDA in order to resubmit the application as soon as possible. In Australia, three pegfilgrastim biosimilars were approved in 2019: Lapelga and Neutropeg from Apotex and Ziextenzo from Sandoz.
Heparin
There was one biosimilar of the anticoagulant heparin approved in 2019 in Canada. Canadian pharmaceuticals company Valeo Pharma won the rights to market a biosimilar of low molecular weight heparin in August 2019. Health Canada stated that heparins should be categorized as biosimilars (rather than generics) in 2013 [3].
Infliximab
Infliximab is a monoclonal antibody treatment for autoimmune conditions including IBD and rheumatoid arthritis. The EC approved an infliximab biosimilar from South Korean company Celltrion in September 2019, following a positive EMA opinion based on phase I/III studies. The product is sold as Remsima. In the US, FDA approved Amgen's infliximab biosimilar Avsola in December 2019. The approval was based on evidence that included pharmacokinetic (PK) similarity and a clinical study in patients with rheumatoid arthritis.
Insulin
In October 2019, Biocon/Mylan were the first to launch an insulin glargine biosimilar in Australia. The product is approved in over 40 countries and is available in Australia on the Pharmaceutical Benefits Scheme.
Rituximab
There were three approvals for rituximab biosimilars in 2019. Rituximab is a monoclonal antibody treatment for autoimmune diseases such as arthritis and some types of cancer. It has been sold under the brand name Rituxan by Genentech (Roche). Teva Canada Innovation's biosimilar version Truxima was approved by Health Canada in April 2019, making it the first rituximab biosimilar approved in Canada. In the US, a biosimilar created by Pfizer called Ruxience was approved in July 2019, based on data from patients with CD20-positive, low tumour burden follicular lymphoma. A biosimilar approved in China was developed by Shanghai Fuhong Hanlin Bio-Pharmaceutical (Hanlin) and sold under the name Hanlikon – the first rituximab biosimilar approved in the country. Two further biosimilars are also in development in China.
Teriparatide
The first teriparatide biosimilar launched in 2019 was in Europe. Hungarian company Gedeon Richter launched their biosimilar Terrosa in August 2019. The product is used to activate osteoblasts, stimulating bone formation. Not long after, in the US, FDA approved a follow-on biological from US-based company Pfenex. Finally, in South Korea Daewon Pharmaceutical received regulatory approval to market Gedeon Richter's product in late 2019. It is the first teriparatide biosimilar to receive regulatory approval in South Korea and the first approval for Daewon.
Trastuzumab
There were a number of new trastuzumab biosimilars approved in 2019. The monoclonal antibody is primarily a treatment for breast cancer and has been marketed by Roche as Herceptin. In the US, FDA approved four new trastuzumab biosimilars in 2019: Herzuma (Celltrion/Teva), Kanjinti (Amgen/Allergan), Ontruzant (Samsung Bioepis) and Trazimera (Pfizer). Likewise, Canada approved Mylan's biosimilar version Ogivri in June 2019, followed shortly after by Herzuma, the third of Celltrion's biosimilars approved in the country. In Australia, Mylan was the first to launch a trastuzumab biosimilar Ogivri in August 2019 for the treatment of human epidermal growth factor receptor 2-positive (HER2+) breast and gastric cancers, and Pfizer's trastuzumab biosimilar Trazimera was approved in August 2019. A similar biologic Eleftha was launched in India by Intas Pharmaceuticals in April 2019, at an impressive 65% discount. In Europe, a biosimilar from Singapore-based Prestige has been accepted for review by EMA, but not yet approved. In May 2019, Brazil's Health Surveillance Agency approved the trastuzumab biosimilar Ontruzant which is produced by Samsung Bioepis, and Celltrion's trastuzumab biosimilar Herzuma.
Clinical studies for biosimilars
In 2019, results were reported from a number of clinical studies investigating the efficacy and safety profile of biosimilars including adalimumab, aflibercept, bevacizumab, denosumab, eculizumab, infliximab, insulin, natalizumab, rituximab, trastuzumab and ustekinumab. Some of these clinical studies are summarized below.
Adalimumab
Positive phase III data for adalimumab biosimilars was presented at the 2019 European Congress of Rheumatology, which was held in Madrid, Spain in June. China-based Hisun revealed the results of a multicentre trial of patients with ankylosing spondylitis, which showed their copy biological (HS016) to have comparable efficacy, safety and immunogenicity to the originator. Another China-based company Innovent in September 2019 published positive results from a phase III equivalence trial. The results showed that 75% of the copy biological-treated group met the primary outcome compared to 72% in the originator-treated group. In March 2019, Amgen published data on the long-term safety of their biosimilar ABP 501, showing persistent benefit with the biosimilar and no loss of efficacy or safety.
2019 also saw the start of two new clinical trials for adalimumab biosimilars. Both Alvotech (Iceland) and Celltrion (South Korea) initiated phase III trials for adalimumab biosimilars in 2019. In March 2019, Alvotech enrolled their first patient while Celltrion finished registering patients. Alvotech aims to enrol 400 participants in the trial at 30 sites and expects the trial to be completed in August 2020. Celltrion is aiming to enrol 564 participants in their trial, which is being carried out in Bulgaria and should be completed in June 2020.
Aflibercept
South Korean biologicals company Alteogen began a phase I trial for an aflibercept biosimilar (ALT-L9) towards the end of 2019. Aflibercept is a recombinant protein used to treat age-related macular generation (sold as Eylea). The trial, which is being conducted in South Korea, will compare the safety, efficacy and PK of ALT-L9 versus Eylea in 30 patients.
Bevacizumab
There were multiple trials for bevacizumab in 2019. China's Bio-Thera Solutions published positive phase I results for its copy biological in June. The study involved 128 healthy male volunteers and showed similarity to both US- and EU-licensed originator products. Singapore-based Prestige started a phase III trial for its candidate, HD204, at the end of 2019. The randomized controlled trial will compare HD204 to the reference product, EU-licensed Avastin, in 500 patients with non-squamous non-small cell lung cancer (NSCLC). An already completed study of Amgen's biosimilar Mvasi showed no statistically significant differences in clinical efficacy, safety, immunogenicity and PK with Avastin. Innovent presented results from a phase III trial at the 2019 Annual Meeting of the American Society of Clinical Oncology (ASCO). They showed no significant difference in safety profile or immunogenicity between their copy biological IBI305 and the originator. Finally, Samsung Bioepis' biosimilar (SB8) showed promising results from a phase III trial, presented at the 2019 European Society for Medical Oncology (ESMO) Congress. Their study assessed response in patients with metastatic or recurrent NSCLC and showed no statistically significant differences in efficacy to the reference product, Avastin.
Denosumab
Denosumab is a monoclonal antibody treatment for osteoporosis, as well as certain tumours of the bone. The originator drug Prolia was developed by Amgen. China-based Qilu has started a phase III clinical trial for their copy biological, which will compare efficacy and safety to the originator product. It is expected to be completed in July 2021. Sandoz is to start a phase III trial for their denosumab biosimilar soon, with an expected completion date of July 2022.
Eculizumab
Samsung Bioepis started a phase III clinical trial for an eculizumab biosimilar following approval from the Korean Ministry of Food and Drug Safety in June 2019. The study will compare the efficacy, safety, PK and immunogenicity of SB12 versus the originator drug, Soliris. It will include 50 patients with the rare blood disorder paroxysmal nocturnal haemoglobinuria (PNH).
Infliximab
Given its efficacy and wide range of treatment indications, infliximab is a popular biosimilar candidate for pharmaceutical companies and a number of clinical studies are ongoing. In June 2019, Celltrion presented real-world safety data on their infliximab biosimilar CT-P13. In one study, 329 patients were recruited at 38 sites across Europe and Canada. Results showed no statistically significant difference in adverse events compared to the originator. A second study collected additional safety data from 1,579 patients treated with at least one dose of CT-P13. Based on these results, the authors concluded that treatment with CT-P13 is well tolerated in the real-world setting. A switching study conducted in IBD patients in Spain showed that most patients switching from originator to CT-P13 had a good profile of efficacy and safety, after a 2-year follow-up period. A final study in Brazil, which included 40 psoriasis patients who required or were already treated with infliximab, showed that the introduction or switch to CT-P13 appears to be safe and non-inferior to the originator.
Insulin
In June 2019, US generics company Lannett started a phase I trial of its insulin glargine biosimilar in South Africa. The single-dose study aimed to compare the PK and pharmacodynamics (PD) of the candidate with the US originator Lantus (Sanofi) in 27 healthy male adult volunteers. The trial was the first clinical study in humans to directly compare Lannett's insulin glargine biosimilar to Lantus and results showed that the biosimilar was well tolerated and showed no significant differences to the reference product in terms of PK, PD and safety.
Natalizumab
Polish company Polpharma began a phase III trial for its natalizumab biosimilar, PB006, in 2019, with plans to complete in August 2021. The product can be used to treat multiple sclerosis (MS) and Crohn's disease. The trial includes approximately 260 patients with relapse-remitting MS and will compare safety and efficacy to the reference product Tysabri.
Rituximab
Amgen, together with Allergan, announced positive results from a phase III trial of its rituximab biosimilar in January 2019. Their randomized, double-blind trial of 311 patients found no statistically significant differences to PK, safety or efficacy compared to the originator. In a second study, they showed that the biosimilar is safe and effective in the treatment of non-Hodgkin's lymphoma. In May 2019, Eli Lilly (and its partner Innovent) announced positive date from two studies of their rituximab copy biological, IBI301. Phase I and III studies both met their primary endpoints (PK profile and objective response rate, respectively). Finally, data presented at the 2019 European Congress of Rheumatology revealed positive results for rituximab non-originator biological AcellBia (Biocad) and copy biological Hanlikon (Hanlin). Biocad published further results on AcellBia in November, showing equivalent efficacy to the originator in lymphoma. In Europe, mAbxience Research reported on a clinical trial of their rituximab biosimilar (RTXM83) in July 2019. They showed comparable biological activity to the EU originator MabThera, and no significant differences in adverse events or immunogenicity.
Trastuzumab
Data published in the British Journal of Cancer in January 2019 showed that Pfizer's trastuzumab biosimilar Trazimera was non-inferior to the originator product, Herceptin (Roche). The randomized controlled trial was international and included over 700 subjects. The results so far show that, when given as first-line treatment for HER2+ metastatic breast cancer, the biosimilar is equivalent to the originator in terms of objective response rate (ORR). The drug has been approved in the EU and Japan but was rejected by FDA in 2018. Results from Biocon and Mylan's trastuzumab follow-on biological Zedora approved in Brazil in December 2017 were presented at the 2019 ASCO Annual Meeting showing that the safety of Zedora is consistent with that of the originator. Finally, Prestige announced positive phase II data from their trastuzumab biosimilar (HD201) in June 2019. The trial included over 500 patients and confirmed that 'HD201 is the most equivalent biosimilar of Herceptin'. The drug was submitted to EMA in May 2019.
Ustekinumab
Ustekinumab, sold under the brand name Stelara (Janssen Immunology), is a monoclonal antibody treatment for psoriasis, which has also been approved to treat IBD in some countries. Australian biosimilars manufacturer NeuClone began a phase I trial of their proposed ustekinumab biosimilar in October 2019, recruiting over 200 healthy volunteers. German company Formycon announced the start of a phase I clinical trial for a rival biosimilar FYB202 at the same time. Dosing of subjects has begun in the trial, which compares PK, safety and tolerability to the reference product Stelara. A trial for an ustekinumab copy biological was approved in December 2019, this time produced by China-based Bio-Thera Solutions. The trial will involve administration of a single dose of the copy biological and is expected to enrol 270 healthy volunteers.
Reports and non-clinical research
There have been a number of non-clinical studies in 2019 investigating several biosimilar issues including:
European biosimilars market
Several reports from 2019 have assessed the European market for biosimilars. One analysis showed an increase in the share of the EU biologicals market that is subject to competition from biosimilars, as well as an increase in patient use of biologicals overall and reductions in prices for biologicals.
However, maintaining long-term sustainability of the market in Europe will be challenging. IQVIA explored some of these challenges, including the fact that fewer new blockbuster biologicals will become available for biosimilars competition over the next five years compared to the last five years. In line with this, the EC held a workshop focussing on sustainability in October 2019, attended by patients, healthcare professionals, authorities and the pharmaceutical industry.
In terms of regulation, one assessment of the European regulatory framework found that it could be difficult for physicians, pharmacists and patients to understand the biosimilar pathway and regulators should therefore improve their communication strategy. Analysis of biosimilars licensed in Europe published in January 2019 also found that the packaging of many did not meet EU guidelines on readability. This is an important issue as unnecessarily complex drug information leaflets could lead to some patients not reading them.
At the 12th Pharmacovigilance Conference in January 2019, EMA reviewed their pharmacovigilance process, outlining strengths and weaknesses of the system and detailing future plans such as increasing the use of real-world data, including from electronic health records and even wearable technology.
A series of roundtable discussions held with clinicians, industry and government in 2018 identified measures to help EU policymakers to access the full potential of biosimilars [4, 5]. Recommendations were made for supply-side incentives, e.g. design more flexible procurement and reimbursement mechanisms, demand-side incentives, e.g. use of physician quotas, and gainsharing, e.g. develop more experience in the design of gainsharing arrangements.
Prescribing
A study reported in February 2019 assessed the barriers and facilitators to biosimilar prescribing in the UK, identifying concerns about safety and efficacy to be a major barrier and departmental cost savings as an important facilitator. A review of pharmacy practice published in August 2019 suggested that pharmacists working in all settings should take a key role in advocating for biosimilars. An important part of this role is to educate patients, providers and healthcare practitioners about biosimilars.
Switching
Switching from originator to biosimilar therapy is one of the most controversial aspects of biosimilar use. Encouragingly, a number of reports in 2019 support safe switching to biosimilar treatments. Data on switching to etanercept biosimilars presented at the 2019 European Congress of Rheumatology, including real-world data, support the safety, efficacy and economic advantage of switching. A review also concluded that switching to biosimilar infliximab (CT-P13) is safe and acceptable, complemented by an 18-month study of switching in ankylosing spondylitis patients.
However, concerns remain about such a strategy. In Denmark for example, government mandated non-medical switching of all patients treated with the originator etanercept Enbrel to biosimilar etanercept Benepali. However, a significant percentage of patients were still being treated with the originator drug one year later. This led some to conclude that mandatory switching is likely not the most efficient strategy for increasing biosimilar use, at least in the context of chronic rheumatic disease. Additional commentary, however, suggested the data may not be useful to assess non-medical switching, due to methodological defects causing 'misleading biases'. More studies are needed in this area.
Education
Education is a commonly cited factor when it comes to increasing biosimilar use. A survey carried out by ESMO identified important knowledge gaps among oncologists. Gaps identified included knowledge on biosimilar development, clinical trial design and requirements for extrapolation, which should be points of focus for educational initiatives.
A literature review published in January 2019 also concluded that clinician education is critical to increase knowledge surrounding biosimilars and ultimately increase their use. Indicative of this, an additional systematic review found that clinicians in Europe and the US do not primarily support the use of biosimilars as safe and effective therapies in patients already receiving originator biological treatment. At the 17th Biosimilar Medicines Conference 2019, the World Health Organization (WHO) representatives further emphasized the importance of education to increase the use of biosimilars.
US biosimilars market
A number of critical assessments of the US biosimilars market were made in 2019. A January 2019 review discussed key considerations for payers in the US, including factors promoting biosimilar uptake as well as key issues such as interchangeability and naming. Particularly important considerations were lack of understanding of the regulatory process, limited education, concerns over the documentation of adverse events and insurance coverage barriers.
President of the Biosimilars Forum Juliana Reed gave a presentation on 'The State of the Biosimilars Market' at the 2019 Drug Information Association's (DIA) Biosimilars Conference. She described various anti-competitive behaviours and market dynamics that discourage uptake of biosimilars in the US, including exclusionary contracting and the lengthy time from FDA approval to market launch. She also described measures that could be used to achieve a more sustainable and competitive biosimilars market in the country, including enabling fair and easy access to the market and increasing the breadth of insurance coverage.
Regulation and guidance on biosimilars
National
It has been a busy year for regulatory changes in the US. Particularly prominent were changes to the regulation of insulin products. In May 2019, FDA held a public meeting to discuss access to affordable insulin. One of the outcomes of this meeting was plans to transition biologicals currently approved under the Food, Drug, and Cosmetic Act as drugs to instead approve them as biologicals, in order to open the pathway to market new products that are biosimilar to, or interchangeable with, these transitioned products. This change includes all insulin products (insulin, insulin mix and insulin analogue products) and will come into effect in March 2020. In November 2019, FDA released additional guidance on immunogenicity considerations for insulin, to help facilitate the development of biosimilar insulin products. 2019 also saw the release of the Insulin Price Reduction Act, a new piece of legislation which would hold pharmaceutical companies, pharmacy benefit managers and insurers accountable for rising insulin prices. These changes look to be effective, as both Eli Lilly and Novo Nordisk launched lower price insulin products in 2019.
In terms of substitution, despite the fact that FDA has not yet approved a biosimilar as interchangeable with its reference product, 45 US states have passed their own substitution laws. The states have passed laws that permit or require pharmacists to dispense an interchangeable biological product in certain situations, but only if the prescriber has not designated on the prescription that substitution is prohibited.
Other changes related to biosimilars include the release of final guidance on demonstrating interchangeability with a reference product, guidance on quality-related considerations which outlines essential factors for consideration when performing comparative analytical assessments (and allows for sponsors to use non-US licensed comparators in some cases). FDA also released new patient-facing guidance to help explain to the public that biosimilars are just as safe and effective as their reference counterparts.
In March 2019, FDA issued new guidelines on the naming of biologicals. The agency had previously said that it would assign a non-proprietary name to all biologicals and biosimilars that includes an 'FDA-designated suffix'. The March 2019 guidelines importantly stated that already approved biologicals will not need to change their names. For biosimilars, the guidelines state that FDA will designate a proper name, which is a combination of the core name and a distinguishing suffix composed of four lowercase letters. However, the guidance was not unanimously well received, with some stakeholders suggesting the changes would be confusing. A literature review, however, suggested the differential naming of originator and biosimilar products supports pharmacovigilance and promotes biosimilar uptake.
Similar discussions were held in Canada in 2019 where an online consultation on naming, proposing three different options for the naming of biologicals. As a result of this consultation, Health Canada announced that all biologicals (including biosimilars) will be identified by their unique name and non-proprietary name, without the addition of a product-specific suffix. They will also continue to have a unique Drug Identification Number (DIN) which identifies key characteristics such as manufacturer, ingredients, strength and dosage form.
Canada has also been leading the way in switching. In 2019, British Columbia stopped coverage of certain originator biologicals and switched patients to biosimilars. The province's healthcare system, PharmaCare, stopped providing coverage for originator biologicals for ankylosing spondylitis, diabetes, plaque psoriasis, psoriatic arthritis or rheumatoid arthritis on 25 November 2019. The move was publicly commended by the Canadian Biosimilars Forum and Green Shield Canada, prompting the province of Alberta to consider stopping coverage of originator biologicals for IBD. For those interested, a paper published in GaBI Journal provides a comprehensive update on the regulation and reimbursement of biosimilars in Canada [6].
Australia's Therapeutic Goods Administration (TGA) launched a similar consultation on naming in 2017, offering four options for the naming of biologicals. As a result, the agency decided in 2019 to continue using the same system: the Australian biological name (without a specific suffix). However, they also require the product's trade name and non-proprietary name to be stated when reporting an adverse event in order to improve pharmacovigilance. During the Generic and Biosimilar Medicines Association's Biosimilar Week in Australia, the 2019 Biosimilar Education Program for healthcare professionals was launched, alongside a dedicated Biosimilar Hub, which provides guidance for patients, prescribers and pharmacists.
In England, the National Health Service (NHS) updated its 'What is a Biosimilar Medicine?' document in June 2019, for both clinical and non-clinical stakeholders. The document aims to support the safe, effective and consistent use of biosimilars. In Ireland, an initiative has been introduced which offers hospitals Euros 500 for each patient they switch to a biosimilar. The incentive scheme relates to adalimumab and etanercept biosimilars, which were approved in the EU in 2016/7. In the scheme, money will be paid directly to hospitals, which it is hoped will help save over eight million Euros. Germany meanwhile introduced a bill which provides a legal framework for the automatic substitution of biosimilars by pharmacists.
Elsewhere, representatives of the Gulf countries (which include Saudi Arabia, United Arab Emirates (UAE), Yemen, Kuwait and Qatar) met with experts from Europe and the US to discuss the global harmonization of biosimilars, discussing issues related to production, regulation and nomenclature across the globe [7]. The UAE's regulatory strategy for biosimilars was also discussed at the Generics and Biosimilars Initiative's 2nd MENA Stakeholder Meeting on Regulatory Approval, Clinical Settings, Interchangeability and Pharmacovigilance of Biosimilars [8].
International
WHO began 2019 by releasing a new Q&A on biosimilars evaluation. The document deals with issues including licensing, evaluation and pharmacovigilance and is based on questions frequently asked by regulators.
Shortly after, the organization released an update to their Global Benchmarking Tool (which is used to evaluate regulatory systems around the world). The revised tool included the move towards 'WHO-listed authorities' (WLAs), replacing the previous 'Stringent Regulatory Authorities' (SRAs). The changes mean all existing SRAs will now be regarded as 'WHO-listed' and additional authorities will be designated, based on the Global Benchmarking Tool and a confidence-building process. The decision to become a WLA will be a voluntary process, undertaken at the request of the country.
In March 2019, WHO provided the results for their pilot project on the prequalification of two anticancer biosimilars: rituximab and trastuzumab, among the first monoclonal antibody treatments to be listed in the WHO Model List of Essential Medicines. WHO's prequalification programme offers guidance on the acceptability of medical products ahead of their procurement to UN agencies and WHO Member States. All prequalified products must meet WHO requirements on quality, safety and efficacy.
Near the end of 2019, WHO announced a groundbreaking prequalification scheme for insulin. The scheme aims to increase the flow of quality-assured insulin products, which is especially important for low-income countries. WHO invited drug manufacturers who wish to have their products evaluated by the programme to submit their information to the prequalification team.
Collaborations, agreements and investments in biosimilars
Kicking off 2019, Samsung Bioepis announced in January that it was expanding into China through a licensing agreement with 3SBio. The agreement covers multiple candidates, including a bevacizumab copy biological. In the same month, Coherus announced an agreement with AbbVie giving Coherus global rights to commercialize their adalimumab biosimilar, CHS-1420, given that they pay royalties to AbbVie.
In March 2019, Biogen entered into an agreement with Fujifilm. Under the agreement, Fujifilm acquired Biogen's manufacturing facility in Hillerød, Denmark. It will become Fujifilm's fourth biopharmaceutical contract development and manufacturing site and will retain the existing workforce of around 800 employees.
April 2019 saw Iceland's Alvotech and Japan's Fuji Pharma make a binding agreement for the commercialization of Alvotech's ustekinumab biosimilar, Stelara, in Japan. Fuji Pharma invested in Alvotech in 2018, giving them a 4.2% stake in the company. Two Belgian companies, SYnAbs and Univercells, announced on 20 April 2019 the signing of an agreement for an undisclosed biosimilar. Under the agreement, contract research organization SYnAbs will develop an assay to measure features of a biosimilar monoclonal antibody developed by Univercells. On 30 April 2019, Sandoz signed an agreement with EirGenix of Taiwan to market a trastuzumab biosimilar. The agreement gives Sandoz the exclusive rights to globally commercialize EirGenix's proposed trastuzumab biosimilar, EG12014.
South Korea also announced a massive investment in April 2019. The government announced that it would be investing almost Won 3 trillion (US$2.6 billion) into biotech-related research and commercialization, 2.9% on-year increase from 2018.
In May 2019, Boehringer Ingelheim signed a long-awaited licensing deal for its adalimumab biosimilar Cyltezo. The deal, signed with originator company AbbVie, will allow Boehringer to launch Cyltezo on the US market in July 2023. At the end of May 2019, German generics manufacturer Stada Arzneimittel and Swedish biotech company Xbrane Bioscience announced an expansion to their biosimilar development partnership, to focus on products with patent expiration dates between 2025−2030.
Pharmapark announced in July 2019 a deal to exclusively supply Prestige's trastuzumab biosimilar (Tuzune) in Russia, followed by the news that Celltrion and the Nan Fung Group had formed a joint venture (named Vcell Healthcare) to develop and sell copy biologicals in China. On 29 July 2019, Alvotech and Cipla Gulf announced an exclusive partnership for the commercialization of an adalimumab biosimilar (AVT02) in a range of emerging markets. The product is in phase III development and will be filed with EMA and FDA in 2020.
In September 2019, Sandoz and Polpharma announced a worldwide agreement giving Sandoz the commercialization rights to a natalizumab biosimilar. Following regulatory approval, Sandoz will commercialize and distribute the biosimilar in all markets via an exclusive global licence. Similarly, Shanghai Pharma and Biocad agreed to a joint venture to develop, make and sell cancer and autoimmune copy biologicals in China. Finally, Biocon announced in September 2019 that its subsidiary, Biocon Biologics, had acquired a Pfizer research facility in India. The facility houses facilities for cell-line development and drug substance process development and is expected to employ around 250 scientists.
Alvogen in October 2019 announced exclusive commercialization agreements to distribute and market a teriparatide biosimilar in Canada, Israel and South Korea, while its subsidiary Alvotech formed an agreement with Stada for the commercialization of seven biosimilar candidates.
In December 2019, Japanese companies Gene Techno Science and Kishi Kasei announced an agreement for the joint development of an Eylea (aflibercept) biosimilar. The agreement also includes Fuso Pharmaceuticals, who have developed an aflibercept-producing cell line. Finally, Samsung Bioepis and Biogen expanded their agreement to include two ophthalmology biosimilars and to enable Biogen to commercialize Samsung Bioepis' anti-inflammatories in Europe for an additional five years.
Summary and recommendations
2019 has been a successful year for many in the biosimilars market, not only those in industry but also for patients. Instances of success were highlighted by a presentation at the DIA's Biosimilars Conference in September 2019; trastuzumab for example, has halved recurrences of HER2+ breast cancer, while TNF-α inhibitors have revolutionized care in IBD, and β-interferons have reduced relapses in MS. Increasingly available biosimilars of these drugs are increasing access and reducing costs to patients around the world.
However, many challenges remain for the biosimilars market, not least the fact that the number of blockbuster biologicals with patents due to expire is decreasing. Going forward, it is important to take action to shape a sustainable and competitive biosimilars market in the long term.
Key recommendations in this regard include changes to market dynamics, such as considering removing mandatory price cuts for originators, regulatory changes such as reducing the time it takes to get a biosimilar to market, implementing provider incentives or prescription quotas to promote biosimilar use, as well as awareness raising initiatives to improve education for both patients and physicians. Perceptions of biosimilars are improving – a recent survey of gastroenterologists showed that only 19.5% felt little or no confidence in the use of biosimilars, compared to 63% in 2013 – but more work needs to be done in this area.
Amid all of this, however, it is essential that it is the decision of the patient – with the input of their healthcare provider – whether to use a biosimilar or an originator biological.
Finally, efforts to achieve regulatory harmonization will be essential in enabling the consistent use of biosimilars worldwide. Initiatives are paving the way for worldwide standards, which will ultimately build consumer confidence in biosimilars.
Editor's comment
European Medicines Agency regulatory requirements ensure the same high standards of quality, safety and efficacy for biosimilars as for originator biologicals, and also include a rigorous comparability exercise with the reference product but they are not universally accepted by regulatory bodies outside of the European Union (EU). It should be noted that copy biologicals approved in China, similar biologics approved in India, or non-originator biologicals approved in Russia might not have been authorized if they had been subjected to the strict regulatory processes required for approval of biosimilars in the EU.
Competing interests: None.
Provenance and peer review: Article prepared with data from GaBI Online and GaBI Journal; internally peer reviewed.
Eleanor Bird, MSc, GaBI Journal Editor
References
1. GaBI Online – Generics and Biosimilars Initiative. Biosimilars approved in the US [www.gabionline.net]. Mol, Belgium: Pro Pharma Communications International; [cited 2020 Feb 12]. Available from: www.gabionline.net/Biosimilars/General/Biosimilars-approved-in-the-US
2. GaBI Online – Generics and Biosimilars Initiative. Biosimilars approved in Europe [www.gabionline.net]. Mol, Belgium: Pro Pharma Communications International; [cited 2020 Feb 12]. Available from: www.gabionline.net/Biosimilars/General/Biosimilars-approved-in-Europe
3. Government of Canada. Policy statement: clarifying the appropriate regulatory pathway for subsequent entry low molecular weight heparins [homepage on the Internet]. [cited 2020 Feb 12]. Available from: http://www.hc-sc.gc.ca/dhp-mps/brgtherap/applic-demande/guides/lmwh-pol-hfmm-eng.php
4. Simeons S, Le Pen C, Boone N, et al. How to realize the potential of off-patent biologicals and biosimilars in Europe? Guidance to policymakers. Generics and Biosimilars Initiative Journal. 2018;7(2):70-4. doi:10.5639/gabij.2018.0702.014
5. GaBI Online – Generics and Biosimilars Initiative. How can EU policymakers access the potential of biosimilars [www.gabionline.net]. Mol, Belgium: Pro Pharma Communications International; [cited 2020 Feb 12]. Available from: www.gabionline.net/Biosimilars/Research/How-can-EU-policymakers-access-the-potential-of-biosimilars
6. Siu ECK, Tomalin A, West K, et al. An ever-evolving landscape: an update on the rapidly changing regulatory and reimbursement of biosimilars in Canada. Generics and Biosimilars Initiative Journal. 2019;8(3):107-18. doi:10.5639/gabij.2019.0803.014
7. Trifirò G, Al-Foheidi M, Alhomaidan AM, Aljedai AH, Alkholief MA, Alsenaidy MA, et al. First GCC stakeholder meeting on approval process, interchangeability/substitution and safety of biosimilars 2017 – Report. Generics and Biosimilars Initiative Journal (GaBI Journal). 2018;7(4):158-63. doi:10.5639/gabij.2018.0704.032
8. Laslop A, Wang J, Thorpe R. 2nd MENA stakeholder meeting on biosimilars 2018 – Report. Generics and Biosimilars Initiative Journal (GaBI Journal). 2019;8(2):76-87. doi:10.5639/gabij.2019.0802.009
Disclosure of Conflict of Interest Statement is available upon request.
Copyright © 2020 Pro Pharma Communications International
Permission granted to reproduce for personal and non-commercial use only. All other reproduction, copy or reprinting of all or part of any 'Content' found on this website is strictly prohibited without the prior consent of the publisher. Contact the publisher to obtain permission before redistributing.
Source URL: http://gabi-journal.net/top-developments-in-biosimilars-during-2019.html
---